Amish Baby Furniture: Cribs and More!
Expecting a child?
Having a child is a wonderful time in the life of a family, and one that comes with many challenges. Finding safe, durable furniture for your child is one such challenge. Luckily, Amish baby furniture comes with great diversity, customization, and styles to suit your exact needs.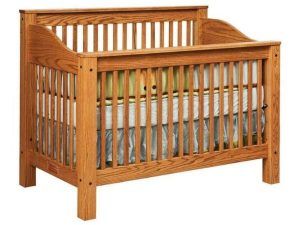 Perhaps the most important baby furnishing to consider is the crib. Each crib boasts sturdy construction, a safe design, and durability. Crib mattresses add the most comfort possible. Another important furnishing to consider is the changing table. Here, your little one can rest on the contour pad while they are being changed. Storage shelves provide plenty of space to keep necessities.
Remember that as your child grows up, there are safe, durable furnishing to suit their every transition from crib to bed, from simple to complex toys and from changing tables to small dressers.
Looking for the right furnishing?
Finding the right furnishings for your newborn or baby can be quite a challenge. Thought must be given to comfort, safety, durability, and style. Luckily, a few furniture retailers, particularly Amish-owned and operated retailers, offer Amish Baby Furniture in a variety of styles and with a full line of custom options.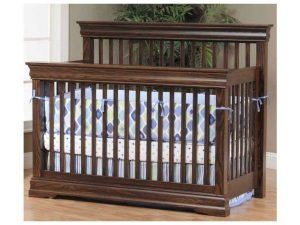 When searching for the proper furnishing for your little one, consider a piece with smooth-sanding and a sleek finish, ensuring a high-level of comfort. Often, Amish-made pieces are virtually screw-less, guaranteeing no rough joints or obtrusions. Also, consider pieces utilizing organic, eco-friendly stains, dyes and paints. Check whether the furniture retailer complies with environmental and human safety standards when using stains, paints, and dyes. In addition, make sure that your furnishing is comfortable for your little one and durable enough to withstand heavy use. Finally, choose a style that suits your taste and your home decor. There are retailers that will work hand-in-hand with customers to ensure satisfaction. Therefore you won't feel the need to compromise on style. The Louis Phillippe Convertible Crib, pictured above, features comfort and durability.
Welcoming a new MEMBER?
Welcoming a new member of the family in the form of a precious newborn brings many challenges. One relatively simple challenge that is sometimes overlooked is finding new furnishings to meet the needs of your growing family.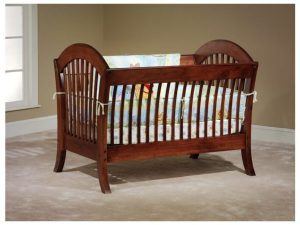 Amish baby furniture boasts durable construction to endure heavy use and provide maximum comfort and safety. Organic, non-toxic stains, paints and dyes ensure complete safety for your little one. As well as dynamic storage space and a wealth of custom options. Therefore allowing you to choose each Amish baby furnishing to your exact specifications.
Amish baby furniture includes a variety of furnishings. Such as solid wood cribs (some which can be converted to day beds and full-size beds), changing tables, toy boxes and potty chairs (to name a few). To see more Amish baby furniture, visit your local Amish furniture market. Furthermore seeing close-up why there is nothing like Amish crafted baby furniture!