The Unique Beauty of Amish Country Furniture
Country furniture, sometimes referred to as "Cottage furniture" and grouped with "Wicker furniture", enjoys great popularity from those seeking quality craftsmanship and a timeless style. Amish Country Furniture, known for its rustic beauty, possesses distinct characteristics that make it instantly recognizable. As a result, these characteristics include simple, traditional designs, natural wood finishes, and solid wood construction.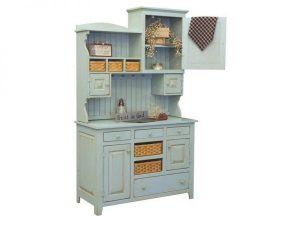 The Lizzie's Hutch (see picture), is a beautiful example of Amish Country Furniture. Featuring a sand-thru paint finish, eastern white pine construction, Seafoam paint, and storage baskets. As well as paneled doors and sides and wood slats, adding to the charm of the Lizzie's Hutch.
Specializing in handcrafted, hardwood furniture, Amish craftsmen offer the finest examples of Cottage Furniture. Therefore visit your local Amish furniture market or retailer to see first-hand a vast selection of hand-crafted Country Furniture.