The Beauty of Elm Wood
Brandenberry Mondovi Bed
Above all traditional Amish craftsmen use a variety of woods to craft their pieces. The usual wood choices are oak, quarter sawn white oak, cherry, maple, brown maple and sometimes, hickory. Therefore each wood possesses unique qualities that accent each furnishing. A lesser-known wood is Elm. Noted for its strong, interlocking grain which results in great durability.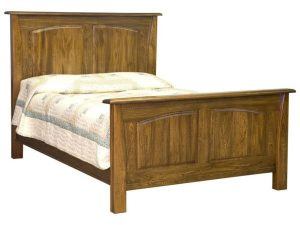 The Mondovi Bed, pictured here, boasts a sleek, simple design that effortlessly blends classic and modern styles. Featuring solid Grey Elm construction, the Mondovi Bed possesses great durability and rich wood grain.
Arched raised paneling, bed size options, wood species selection, and stain/paint/dye choices make this bed a perfect accent to any home.
Furniture lovers looking for a beautiful piece should consider Elmwood. Not only for its strength and smooth grain but for its unique color qualities and beauty. For more pieces like this Amish bed, visit our Brandenberry Amish Furniture store!
*reference: http://en.wikipedia.org/wiki/Elm