Aug26
Comments Off on Discovering Amish-Made Furniture
When searching for quality home furnishings, there are a few guiding characteristics most people will agree on. And this blog, Discovering Amish-Made Furniture, should help in the search. So here are some of the major things people look for when shopping for new furniture. And here's how artisans with Brandenberry Furniture handcraft each item to meet or exceed these expectations: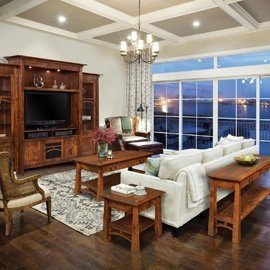 Beauty of Amish-Made Furniture
Every detail should add to the overall beauty of each piece of furniture. And this 'beauty' includes the style and design, craftsmanship, finish, and hardware. Skilled Amish artisans painstakingly handcraft every item of Brandenberry furniture. And they integrate centuries' old traditions and finely honed cabinetmaking techniques. So that's why furniture lovers find features like fluted columns and decorative corbels. Plus majestic crown moldings and more. Also, the artisans meticulously finish every piece. And the results show up in the perfect fit and finish. Plus flowing lines and eye-catching, genuine woodgrain.
Practicality of Amish-Made Furniture
The finest furnishings serve a purpose. And functionality — including storage space and customization — should enhance the functionality and usability of a piece. The designers of Brandenberry furniture integrate practical features into just about every piece they create. And these elements include soft-close doors plus hutches with touch lights. In addition, designers integrate electrical outlets and mesh cloths for speakers in TV consoles and wall units. Also, you will find wall units and wine racks with a DVD/CD tray or slide-out beverage/wine accessory tray respectively. And the list goes on.
Durability of Amish-Made Furniture
Home furniture should be sturdily constructed. So family members can enjoy it for generations to come. Amish cabinetmakers build each item of furniture from solid hardwoods — such as oak, maple, cherry, and hickory. Also, they integrate tried and proven woodworking techniques. And they avoid bargain substitutes like particle boards, veneers, brads and staples. So, with proper care, every unit should last for generations to come.
Discovering Amish-Made Furniture Online or in Person
To learn more about Brandenberry Amish Furniture, or to browse a wide selection for yourself, visit Brandenberry Amish Furniture, and see why Amish furniture is so special. Or, visit our 'brick and mortar' store in picturesque Shipshewana, Indiana. And explore Amish furniture firsthand.