Brandenberry Spring Preview
The Double Canopy Glider
What better in the midst of winter's chill than a glimpse of the warm summer air that is waiting patiently to make its arrival? While a fireplace of a plush recliner may be the perfect home furnishings for a cold, snowy day. The sweet aroma of Red Cedar is enough to turn one's thoughts to the May sunshine and blooming trees.
With that in mind, the Double Canopy Glider is the perfect piece for a lazy day in the sun. Featuring aromatic Red Cedar construction and beautifully crafted wood slats. This stunning glider seats four and features a solid frame and durable roof. Therefore perfect for a patio, porch or lawn furnishing. The Double Canopy Glider is a wonderful furnishing.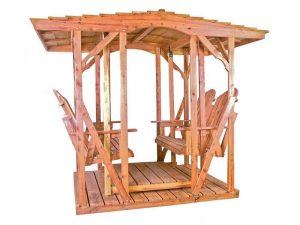 To see more Cedar furniture like this charming glider, visit our Brandenberry Amish Furniture store and see why Amish-crafted furniture is special.