Handcrafted Furniture Love
Roosevelt Executive Desk
For furniture enthusiasts, there are certain pieces that piqued their fascination. As well as awakened their imagination to the beautiful possibilities of hand-crafted, expert wood craftsmanship. It may have been when they encountered a sleekly crafted table. Or it may have been observing the meticulously detailed construction of a wall entertainment center. Therefore leaving you amazed by the flawless design.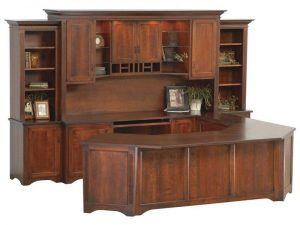 For many, the Roosevelt Executive Desk, pictured here, may be the piece that opens their eyes to the remarkable quality of Amish-crafted furniture. Featuring solid cherry wood construction and plenty of dynamic storage space (including natural poplar drawer boxes). As well as a wrap-around desk with envelope and letter storage. Above all it includes details such as fluted columns, reverse columns and can lights with touch-switch. The Roosevelt Executive Desk is a must see piece.
Above all, to see more executive desks like this or more Amish furniture, visit us at Brandenberry Furniture and enjoy solid wood furniture!