The furniture industry pays a lot of attention to the variety of storage chests and elegant beds available for the bedroom. Yet, the most exciting new trend in bedroom furniture is a combination of chests and beds. The storage bed. So let's take a look at Storage Beds: A New Trend in Bedroom Furniture.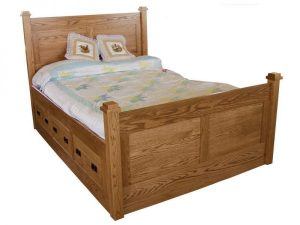 Storage Beds: A New Trend in Bedroom Furniture
The concept of a storage bed is so simple, it begs the question: why didn't someone think of it before? The area under a traditional bed is like a vast, largely unused space. Yes, some people place their shoes there. Or hard-to-store stuff like suitcases and extra boxes. Also, dogs and cats like to hide there. Especially if they're trying to escape a thunderstorm – or a bath. And worse of all, you have to vacuum it ever so often. And this is quite a feat, especially in the case of king and queen beds!
Storage Beds: Perfect Storage Solution
Getting a storage bed for your bedroom solves three big problems. First, the drawers give you needed storage space for bedding items – like sheets, pillowcases, and blankets. Alternately, you can use it for clothing or keepsakes. Secondly, storage beds give your room a neater appearance as the beautiful woodwork of the bed fills the space between the mattress and the floor. And thirdly, storage beds eliminate the chore of tediously maneuvering the vacuum cleaner's extension tool back and forth under the bed to suck up the non-stop collection of dust.
Storage Beds from Brandenberry Amish Furniture
Brandenberry Amish Furniture offers an impressive collection of storage beds. And skilled Amish craftsmen custom-craft each bed from solid hardwoods. Like cherry, maple, and oak. In fact, the deluxe Pine Hollow Storage Bed (shown) is an example of an Amish storage bed.
The bed itself features three full-extension drawers on each side. So you'll enjoy lots of convenient storage space. Plus, the drawers open full extension. As a result, you get easy access to entire drawers. Also, dovetail joints in the drawers enhance strength and durability.
Other storage beds from Brandenberry include the Bookcase Bed, Classic Mission Storage Bed, Highland Bed, Jacobson Bed, Mondovi Storage Bed, Storage Bed Rail, Superior Shaker Storage Bed and the Traditional Captain's Bed.
Shop Online or in Person
Furniture lovers interested in checking out Brandenberry's collection of storage beds can visit Brandenberry's website. Also, everyone's invited to visit Brandenberry's 'brick and mortar' store in picturesque Shipshewana, Indiana.