Amish Hickory Twin Bunk Bed
In our continuing celebration of original Brandenberry pieces, we highlight the rustic, one-of-a-kind Amish Hickory Twin Bunk Bed.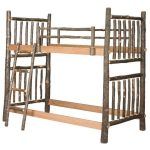 Above all the Hickory Twin Bunk Bed, pictured here, blends rustic beauty and strength. Making it a perfect furnishing for the family with young children who are wild at heart. Furniture-enthusiasts will attest to the beauty of the raw, natural wood construction.  Therefore each piece of Hickory wood is selected for its strength and beauty. Thus retaining its natural back accents. In addition, the Hickory Twin Bunk Bed boasts expert craftsmanship (Amish artisans using traditional techniques) and boasts incredible durability.
If the young ones in your family crave adventure, create a place of rest for the young explorers. To see more hand-crafted, custom bedroom pieces like the Hickory Twin Bunk Bed, visit Brandenberry Amish Furniture. As a result, you can see why our original furniture would accent any home.