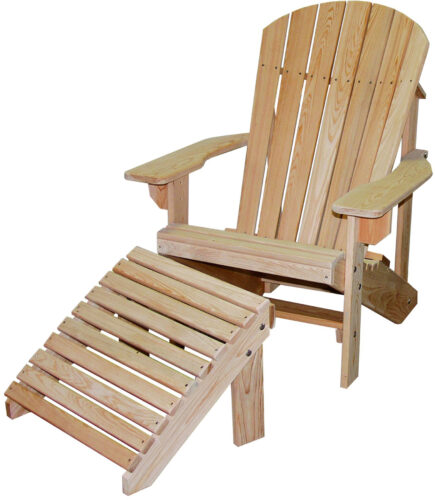 Adirondack Chair and Footrest

Product number: H2006Y-BBS-30293

The Adirondack Chair and Footrest is the perfect place to sit back, relax and prop your feet up after a long day or week. Put one or several around a fire pit, on a dock or on your front porch. Then, you can enjoy the comfort of this adirondack chair for years to come. Certainly, this set will meet all of your outdoor furniture needs.
Adirondack Chair and Footrest Ordering Information
Be sure to call, e-mail or visit us at Brandenberry Furniture. We are here to answer any questions you may have about this chair and footrest combo. Then, before you know it this set will be part of your outdoor living space.
Features
Solid Cypress Construction
Chair and Footrest Combo
Stainable and Paintable
High Resistance to Rain, Rot, Warping, and Pests
Measurements
Chair: 31 D x 30 W x 40 H
Footrest: 22 D x 21 W x 23 H