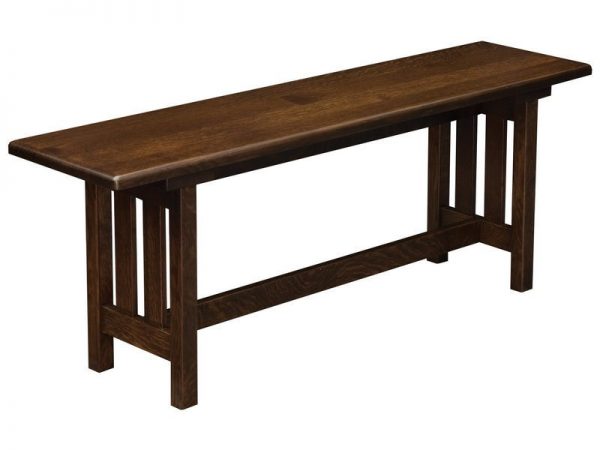 Bay Hill Trestle Bench

Product number: A1607J-BBW-18862

Features
Solid Hardwood Construction
Wood Slats
Customizable
Available Unfinished
Measurements
Bay Hill Trestle 24 Inch Bench Overall: 24 W x 12 1/2 D x 18 H
Bay Hill Trestle 36 Inch Bench Overall: 48 W x 12 1/2 D x 18 H
Bay Hill Trestle 48 Inch Bench Overall: 48 W x 12 1/2 D x 18 H
Bay Hill Trestle 60 Inch Bench Overall: 60 W x 12 1/2 D x 18 H
Bay Hill Trestle 72 Inch Bench Overall: 72 W x 12 1/2 D x 18 H
Overview
A contemporary design with straight lines accented with wooden slats describes the modern Bay Hill Trestle Bench perfectly. The Amish bench is handcrafted from solid hardwood with authentic peg and mortise-and-tenon joinery. Providing you with the quality you want and expect. The deep brown stain is waxed to a soft sheen, highlighting the natural wood's open grain and beautifully unique knots. The Bay Hill Trestle Bench can be customized. This allows you to choose from your favorite wood type, finish, accessories and dimensions. This entry way bench will surely be a great addition to your home.
The Bay Hill Trestle Bench contains several pieces within its collection. The collection has a variety of lengths to select from. Customers can choose from 24, 36, 48, 60 and 72 inches length bench. The smooth seat is handcrafted from solid wood with rounded edges. Therefore, allowing for maximum comfort while sitting and taking off your shoes and socks. You also have the option of designing a custom made cushion seat to add a personal touch to your Amish bench. Hence, the Bay Hill Trestle Bench is a perfect addition to any home.
Ordering Information
For a quote, click on the "Custom Options" button, then choose from the wide selection of options available for the Bay Hill Trestle Bench. Please feel free to come and visit us in Amish Country, in Shipshewana. You will be able to see a wide selection of our quality crafted solid wood benches. Feel free to also call or e-mail us with any questions you may have, help in customizing this Bay Hill Trestle Bench to meet your design needs or for a complimentary price quote.