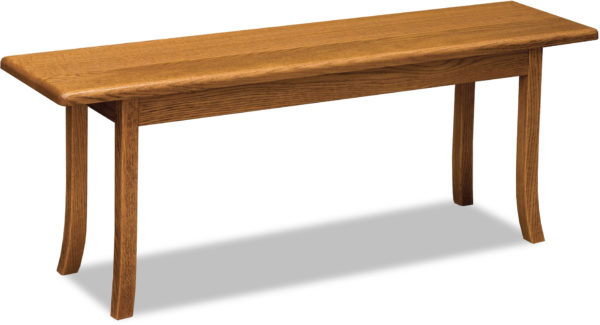 Carlisle Trestle Bench
Product number: A1607J-BBW-18860

Features
Solid Hardwood Construction
Tapered Legs
Customizable
Available Unfinished
Measurements
Carlisle Trestle 24 Inch Bench Overall: 24 W x 12 1/2 D x 18 H
Carlisle Trestle 36 Inch Bench Overall: 36 W x 12 1/2 D x 18 H
Carlisle Trestle 48 Inch Bench Overall: 48 W x 12 1/2 D x 18 H
Carlisle Trestle 60 Inch Bench Overall: 60 W x 12 1/2 D x 18 H
Carlisle Trestle 72 Inch Bench Overall: 72 W x 12 1/2 D x 18 H
Overview
The tapered leg Carlisle Trestle Bench is a polished and simple style farm bench that is custom built for you. Each Amish trestle bench is hand built and assembled, hand distressed and rubbed. This is to ensure no two benches are exactly the same. In addition, providing the quality you would expect and deserve. Change the look of he Carlisle Trestle Seat by selecting from our many wood, stain paint, accessories and size options. The Carlisle Trestle Bench is a perfect piece for any hallway, entry way or with a kitchen table.
The Carlisle Trestle Bench has several pieces within its collection. The collection includes a 24 inch, 36 inch, 48 inch, 60 inch and a 72 inch seat. You also have the option of designing a custom made cushion seat to add a personal touch to your Amish bench. Hence, Carlisle Trestle Seat is a perfect addition to any home.
Ordering Information
For a quote, click on the "Custom Options" button, then choose from the wide selection of options available for the Carlisle Trestle Bench. Please feel free to come and visit us in Amish Country, in Shipshewana. You will be able to see a wide selection of our quality crafted solid wood trestle benches. Feel free to also call or e-mail us with any questions you may have, help in customizing this Carlisle Trestle Bench to meet your design needs or for a complimentary price quote.