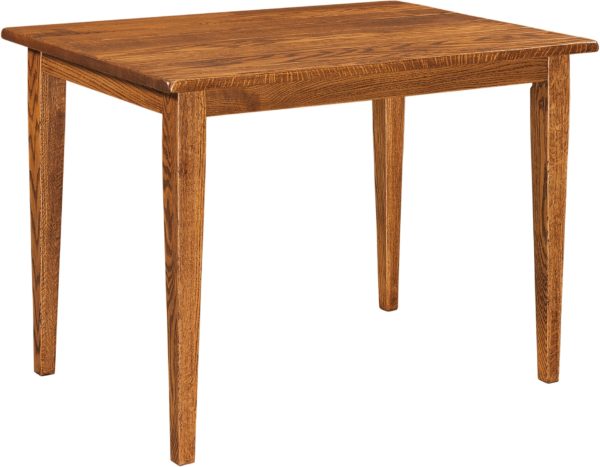 Dayton Leg Table

Product number: W1607P-BBW-22411

Features
Solid Hardwood Construction
1 Inch Smooth Rectangle Top
Grain Lengthwise Only
2 1/2 Inch Straight Skirt
Mission Edge (Standard)
Shown with Optional Saw Marks and Grooves
2 1/2 x 2 1/2 x 29 Inch Taper Shaker Legs
Available Unfinished and Customizable
Measurements
Available Widths: 30, 33, or 36 Inches
Available Lengths: 42 or 48 Inches
Solid Top Only
The Dayton Leg Table has a 1-inch smooth rectangular top with the grain of the wood running lengthwise. You see it here with optional saw marks and grooves which gives this traditional leg table a bit more style. Thus, setting it apart from others. Additionally, if you are looking for a table that is a perfect table for smaller dining spaces then this is the one for you. It comes with a solid wood top and in six different sizes ranging from 30″ x 42″ all the way up to 36″ x 48″. Finally, you can rest knowing our master woodworkers pay very close attention to details. Thus, your dining table will meet your exact specifications.
Dayton Leg Table Ordering Information
Visit Brandenberry Furniture for help in fully customizing this solid wood Dayton Leg Table to meet all of your needs. Call Brandenberry Furniture or e-mail us for answers to any questions you may have and for a complimentary price quote. You will usually hear back within 24 hours.