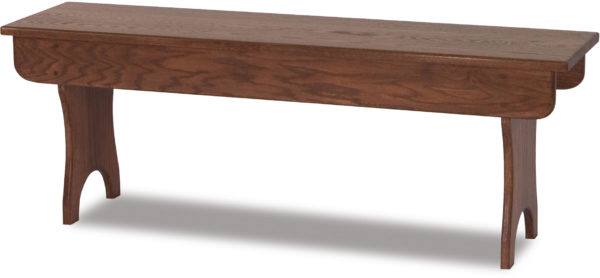 Locker Bench

Product number: A1607J-BBW-18878

Features
Solid Hardwood Construction
Customizable
Available Unfinished
Measurements
Locker 24 Inch Bench Overall: 24 W x 12 1/2 D x 16 3/4 H
Locker 36 Inch Bench Overall: 36 W x 12 1/2 D x 16 3/4 H
Locker 48 Inch Bench Overall: 48 W x 12 1/2 D x 16 3/4 H
Locker 60 Inch Bench Overall: 60 W x 12 1/2 D x 16 3/4 H
Locker 72 Inch Bench Overall: 72 W x 12 1/2 D x 16 3/4 H
Overview
Featuring thick wood with fold over edges, our exclusive Locker Bench completes your home. This bench is a perfect farmhouse look to a dining table or additional seating throughout the home. Our talented Amish craftsman handcrafted this unique piece of solid hardwood. They do this by adding hand cut out detail to create a unique piece. As a result, these features provide the quality you want and expect. Furthermore, there are many options in stains, woods, accessories, paints and dimensions to choose from. You can choose to keep the natural look of the wood or paint the bottom to add a splash of color to your space.
The Locker Bench has several pieces within its collection. The collection includes a 24 inch, 36 inch, 48 inch, 60 inch and a 72 inch seat. You also have the option of designing a custom made cushion seat to add a personal touch to your Amish bench. Hence, Locker Bench is a perfect addition to any home.
Ordering Information
For a quote, click on the "Custom Options" button, then choose from the wide selection of options available for the Locker Bench. Please feel free to come and visit us in Amish Country, in Shipshewana. You will be able to see a wide selection of our quality crafted solid wood benches. Feel free to also call or e-mail us with any questions you may have, help in customizing this Locker Benches to meet your design needs or for a complimentary price quote.