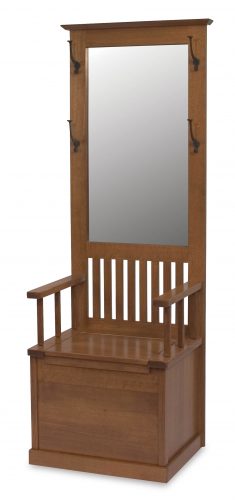 Mission Hall Seat
Product number: A1607J-BBW-18868

Features
Solid Hardwood Construction
Four Coat Hooks
16 Inch Deep Storage Area
Soft close lid support
Mirrored Back
Wood Slats
Customizable
Available Unfinished
Measurements
Mission Hall 24 Inch Seat
Mission Hall 24 Inch Seat Overall: 24 W x 18 D x 73 1/2 H
Mission Hall 30 Inch Seat
Mission Hall 30 Inch Seat Overall: 30 W x 18 D x 73 1/2 H
Mission Hall 36 Inch Seat
Mission Hall 36 Inch Seat Overall: 36 W x 18 D x 73 1/2 H
Mission Hall 48 Inch Seat
Mission Hall 48 Inch Seat Overall: 48 W x 18 D x 73 1/2 H
Mission Mirror
Mission Mirror Overall: 18 7/8 W x 33 9/16 H
Storage Area: 16 D
Overview
The Mission Hall Seat is perfect for a hall, entryway, or any room where you could use a little extra seating and additional storage. This classic hall seat features straight lines, smooth finishes, and slat back. This welcoming hall seat will add a modern twist to your home. Handcrafted of solid wood, this Amish hall seat can be customized. You will be able to choose from your favorite wood type, finish, and size.
The Mission Hall Seat has a variety of features to help make your life simpler and more organized. The hall seat provides four coat hooks, a 33 inch mirror, solid wood bench to sit on and arm rests. In addition, the solid hall seat has storage space under the seat. Most of all, this seat will store all of your shoes, bags, and other personal items that clutter your space.
The Mission Hall Seat has several pieces within its collection. The collection includes a 24 inch, 30 inch, 36 inch and a 48 inch seat. As well as a storage compartment of 16 inches. In addition, the bench features a solid wood bench and one soft close lid support. This allows to help with the opening and closing of your lid. You also have the option of designing a custom made cushion seat to add a personal touch to your Amish bench. Hence, Mission Hall Seat is a perfect addition to any home.
Ordering Information
For a quote, click on the "Custom Options" button, then choose from the wide selection of options available for the Mission Hall Seat. Please feel free to come and visit us in Amish Country, in Shipshewana. You will be able to see a wide selection of our quality crafted solid wood hall seats. Feel free to also call or e-mail us with any questions you may have, help in customizing this Mission Hall Seat to meet your design needs or for a complimentary price quote.