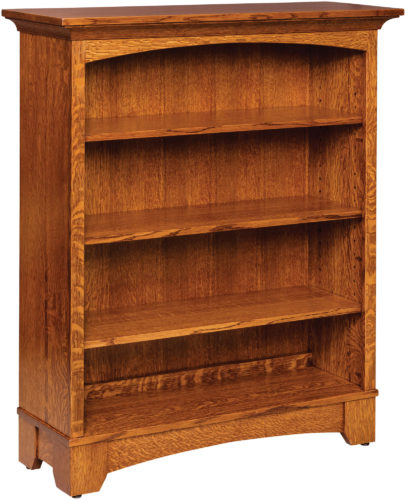 Noble Mission Bookcases

Product number: I1607N-BBW-18636

Features
Solid Hardwood Construction
Adjustable Shelves
42 and 48 Inch Wide Bookcases have Center Divider
Flat Panel Flush Door(s) Available
Customizable
Available Unfinished
Measurements
Available Widths: 18, 24, 30, 36, 42, or 48 Inches
Available Heights: 36, 48, 60, 72, or 84 Inches
Available Depths: 12 (standard), 15, or 18 Inches
(For Top Sizes add 2 Inches to Depth and 4 Inches to Width)
The Noble Mission Bookcases are a great addition to any home or workplace office. Its beautifully carved base details help it stand out against other plain bookcases. Choose from two different sizes: 72-Inch and 48-Inch. The taller Noble Mission Bookcases will take up a lot of wall space and give your office a more formal feeling. It also gives you more space for all of your books and collectibles. The shorter bookcase serves two purposes. It is both a traditional bookcase and the top of it serves as an additional workspace. Since it is shorter it is a great way to store and organize your child's toys.
Want to know more about the Noble Mission Bookcases?
Contact our sales professionals with any questions. Or order it in quarter-sawn white oak with Michael's cherry stain if you like how you see it here. However, feel free to customize to fit your needs. Choose your own wood species, finish, height of the bookcase and then contact Brandenberry Furniture for a custom price quote on any of our Noble Mission Bookcases.