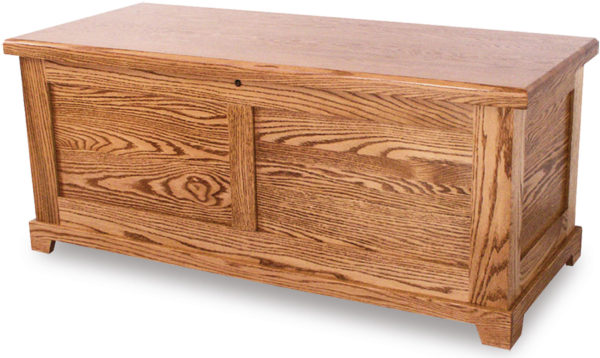 Shaker Cedar Chest

Product number: A1607J-BBW-18890

Features
Solid Hardwood Construction
Cedar Lined
Customizable
Available Unfinished
4 Inch Deep full tray or half tray
Measurements
Shaker Cedar 48 Inch Chest
Shaker Cedar 48 Inchc Chest Overall: 48 W x 20 1/2 D x 20 1/2 H
Shaker Cedar 38 Inch Chest
Shaker Cedar 38 Inchc Chest Overall: 38 W x 20 1/2 D x 20 1/2 H
Includes 4 Inch deep full tray or half tray
Overview
Add this attractive Shaker Cedar Chest to any space where you want to create a traditional look. This Amish cedar chest has handsome raised details on the front to add to its visual appeal. It is just the thing for adding a classical touch to your bedroom, living area, den, or hallway. The Shaker Cedar Chest can be used for storing everything from linens to off-season clothing and toys. In addition, it features a soft close lid with a lock, that opens to reveal cedar lining with an aromatic cedar scent. This Amish chest is handcrafted from solid cedar to ensure a durable structure to last for many years. The Shaker Cedar Chest can be customized and is available in your choice of wood, stain, and finish to complement most any décor setting. The back of the chest is fully finished, so you can set it anywhere.
The Shaker Cedar Chest has a 38 and 48 inches seat. As well as storage underneath, with a depth of over 11 inches of storage. In addition, the cedar chest features a solid wood lid and two soft close lid support. This support helps with the opening and closing of your lid. The Cedar Chest also features a 4 inch full or half tray to help with storage and organization. Hence, the Shaker Cedar Chest is a perfect addition to any home.
Ordering Information
For a quote, click on the "Custom Options" button, then choose from the wide selection of options available for the Shaker Cedar Chest. Please feel free to come and visit us in Amish Country, in Shipshewana. You will be able to see a wide selection of our quality crafted solid wood chests. Feel free to also call or e-mail us with any questions you may have, help in customizing this Shaker Cedar Chest to meet your design needs or for a complimentary price quote.