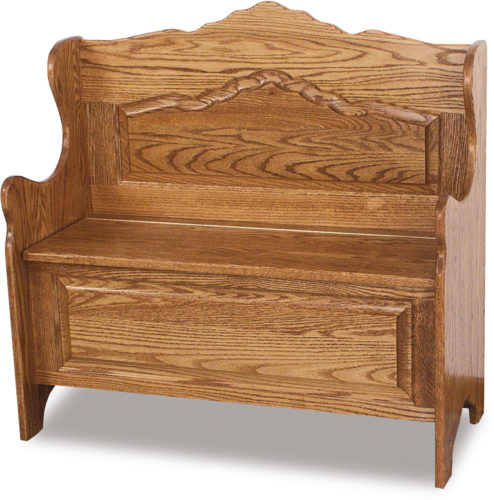 Sunrise Raised Panel Bench

Product number: A1607J-BBW-18841

Features
Solid Hardwood Construction
"Sunrise" Raised Panel Design
Customizable
Available Unfinished
Measurements
Sunrise Raised Panel 24 Inch Bench Overall: 24 W x 16 D x 36 H
Sunrise Raised Panel 36 Inch Bench Overall: 36 W x 16 D x 36 H
Sunrise Raised Panel 40 Inch Bench Overall: 40 W x 16 D x 36 H
Sunrise Raised Panel 48 Inch Bench Overall: 48 W x 16 D x 36 H
11 Inch Deep Storage Area
Overview
Our Sunrise Raised Panel Bench will make an impression on guests in any room of your home or office. The Amish bench features a raised panel arched back with a classic inset design on the front which makes a beautiful statement. In addition, a comfortable place to rest. The Sunrise Raised Panel Bench is handcrafted from solid hardwood. For the quality you expect and deserve it; is constructed with extremely precise measurements and design allowing for the perfect bench. The bench feature a 11 Inch storage area under the seat to allow your entry way to be clutter free. This storage bench is perfect for extra storage in the entry way, mud room or play room.
The Sunrise Raised Panel Bench has several pieces within its collection. The collection includes a 24 inch, 36 inch, 40 inch and a 46 inch seat. As well as a storage compartment of 11 inches. In addition, the bench features a solid wood bench and one soft close lid support. This allows to help with the opening and closing of your lid. You also have the option of designing a custom made cushion seat to add a personal touch to your Amish bench. Hence, Sunrise Raised Panel Bench is a perfect addition to any home.
Ordering Information
For a quote, click on the "Custom Options" button, then choose from the wide selection of options available for the Sunrise Raised Panel Bench. Please feel free to come and visit us in Amish Country, in Shipshewana. You will be able to see a wide selection of our quality crafted solid wood benches. Feel free to also call or e-mail us with any questions you may have, help in customizing this Sunrise Raised Panel Bench to meet your design needs or for a complimentary price quote.