Vintage Furniture
Vintage Furniture refers to any furniture piece 30-100 years old. Anything older is classified as "antique," while anything newer is considered "modern."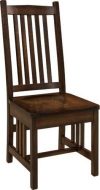 At the turn of the 20th century, the move to cut back on economic excess and lavish personal styles marked a shift toward simpler, natural home decor. Furniture lovers rekindled their affection for classic American furniture. And this trend remains a consistent influence in the furniture market to the present day.
During the 1920s, American furniture craftsmen began to experiment with diverse styles. These styles incorporated designs from the French "Art Nouveau" school of design, the British "Arts and Crafts Movement," traditional Japanese styles (popularized by Frank Lloyd Wright), and the Spanish Mission architecture of the American West (see image).
In addition, revivals of the Italian, French Renaissance and Gothic styles impacted the furniture market. But the public trend toward a simpler American style meant that these ornate European styles saw only limited favor.