Buying an office chair has a lot in common with purchasing a pair of jogging shoes. They must look great and have just the right fit. But with so many office chairs on the market, how do you find the right one? Fortunately, the folks at Brandenberry Amish Furniture offer a range of chairs for your office that will work perfectly. So Whistle While You Work: Find The Ultimate Office Chair at Brandenberry.
What to Look For in the Ultimate Office Chair
Ergonomic studies show that a supportive office chair helps increase worker productivity and maximize efficiency. Conversely, a bad chair can lead to complications including leg problems, back strain, and carpal tunnel syndrome. So a good office chair may be more expensive than a cheap one. But given the health and comfort benefits, the extra cost is well worth it. That said, here are some things to look for as you Whistle While You Work: Find The Ultimate Office Chair: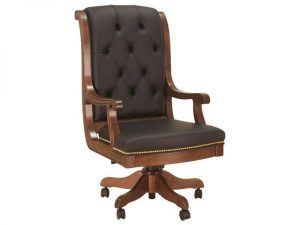 Lumbar Support: You should choose an office chair that supports your lower back. Proper lumbar support helps prevent back strain, which can worsen over time.
Proper Fit: Before investing in a chair, you should, if possible, sit in the chair to make sure it's the right fit for you. And when you sit in the chair, check if it provides lumbar support. Ideally, the backrest should follow the curve of your spine. Also, make sure the armrests are at a comfortable height. In addition, the backrest should be at the correct angle. What's more, your feet should rest comfortably on the floor. In addition, your knees should easily extend beyond the end of the seat.
Easy-to-Roll Wheels: Make sure the wheels are easy to roll on a carpeted floor. If that's difficult, consider getting a chair with wheels specifically designed for carpets. Or invest in a chair mat.
Swivel Base: Make sure the chair swivels freely. This allows you to enjoy easy access to various parts of your desk and credenza.
Fabric: If your office tends to get warm, consider getting a breathable fabric instead of a non-breathable material like leather.
Whistle While You Work: Find The Ultimate Office Chair
Brandenberry offers a wide variety of top-quality chairs. Amish artisans custom-make them all. So the chairs are stronger and more durable than most chairs you'll find in office supply and traditional furniture stores. Also, you can get everything from a bare wood chair such as the Ridgecrest to an upholstered chair like the Delray. Or, you may wish to spring for o.ne of Brandenberry's executive-style chairs like the Wyndlot.
Visit Brandenberry Online or in Person
You can view Brandenbery's full lineup of chairs online. Or, you can visit Brandenberry's 'brick and mortar' store in picturesque Shipshewana, close to the 80/90 toll road in Northern Indiana.
Source: https://gearpatrol.com/2009/07/14/the-definitive-guide-to-choosing-an-office-chair/