Are the bathroom vanities in your house as upscale as the furniture in the rest of your home? This needn't be the case. Because you can choose Amish-crafted, solid hardwood bathroom vanities from Brandenberry Amish Furniture. The bathroom vanities are all part of Brandenberry's Bathroom Sink Collections: Solid Wood Bathroom Vanities.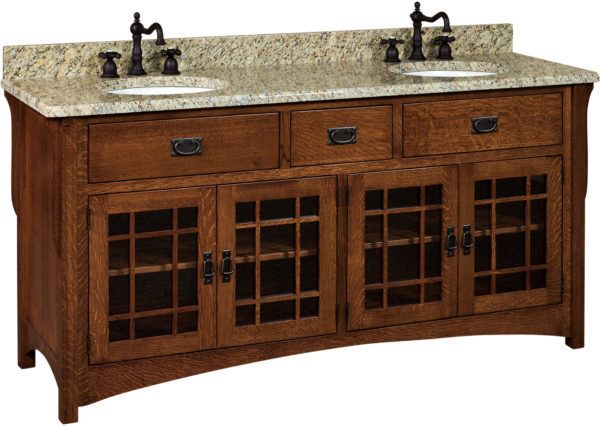 Classic to Modern Solid Wood Bathroom Vanities
Picture your bathroom vanities made of solid wood. And imagine being able to close the drawers and doors with nothing more than a gentle push. Also, think about your favorite type of countertop with backsplash. Like granite or solid surface. Because these features, and more, are what you'll get with bathroom vanities from Brandenberry. What's more, you can choose units with a classic or modern look. In enclosed or open designs. Also, Brandenberry offers vanities with single or double lavatories. All ready for your choice of faucets.
Amish-Built for Beauty, Strength and Durability
Highly skilled Amish cabinetmakers handcraft each bathroom vanity. And they use solid hardwoods. Like oak, maple, cherry and hickory. Plus, the Amish men draw from skills handed down from their ancestors. So the units you choose will be very sturdy and durable. In fact, with proper care, vanities from Brandenberry should last for generations to come.
What's more, you can match the bathroom vanity or available corner bathroom sink with a bathroom mirror from Brandenberry.
Don't see the bathroom furniture that really strikes your fancy? No worries. Just send Brandenberry a photo of your current bathroom designs. And their craftsmen can design and build you the perfect bathroom furniture.
Bathroom Sink Collections: Solid Wood Bathroom Vanities
To view the Brandenberry's bathroom sink collections, check out Brandenberry Furniture's online store. Or, visit their 'brick and mortar' store in Shipshewana, Indiana. And talk to their expert customer service staff about creating custom-made furniture for your home and lifestyle.