[vc_row][vc_column][vc_column_text]If you're like most gun owners, you're proud of your collection of rifles and handguns. But are your firearms nicely displayed? And are they safely stored? Gun Cabinets: Showplace and Safety provides some storage and display solutions.
Brandenberry Amish Furniture in Shipshewana, Indiana, offers a collection of awesome gun cabinets. You can choose from cabinets that store from eight to at least 12 guns. But with so many suppliers of gun cabinets out there, why should gun owners choose a Brandenberry cabinet?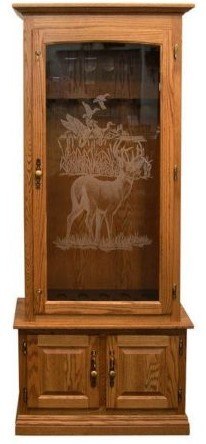 Incredibly Sturdy Gun Cabinets
The best Amish cabinetmakers in the Midwest painstakingly handcraft each cabinet. And the Amish men use premium hardwoods — like oak, maple, cherry and hickory. So you won't find bargain substitutes like veneered particle board, nails or brads. Also, the craftsmen draw from cabinetmaking skills handed down from their Anabaptist ancestors. As a result, the gun cabinet you choose will be incredibly sturdy. In fact, with proper care, the cabinet – and the gun collection – may well become a family heirloom.
Brandenberry Gun Cabinets: Showplace and Safety
The beauty of fine craftsmanship and solid hardwood shines through in every Brandenberry gun cabinet. You'll see it in the raised panel cupboards below. And the builders made sure to include wildlife graphics etched into each glass door. The graphics enhance the look and hunting theme of the cabinets. What's more, indoor lights show off your firepower. Also, locks on each door provide an added measure of safety for your firearms up top. And your ammo down below.
You can customize your cabinet of choice. Just tell Brandenberry your preferences regarding wood, stain and hardware, among other features. Or, you can order the cabinet as shown or unfinished.
Visit Brandenberry Online or in Person
Check out Brandenberry's collection of gun cabinets at Brandenberry Furniture's online store. Or, visit their 'brick and mortar' store in Shipshewana, Indiana. And see the gun cabinets up close and personal.
[/vc_column_text][/vc_column][/vc_row][vc_row][vc_column][vc_gallery interval="10″ images="24052,27985,27977,28074,28053″][/vc_column][/vc_row]