With an increasing number of Americans working from home these days, the need for comfortable, workplace-friendly and great-looking furniture has never been greater. In fact, US government sources report that close to 4 million Americans are now working at home at least part of each week. And this doesn't factor in the large population of retirees who work from home. How should you stay productive at home? This is where Solid Hardwood Furniture: Perfect for Working From Home comes in.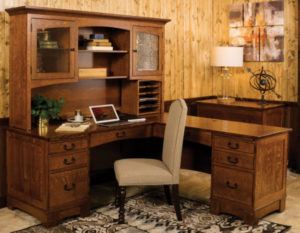 Choose Home Furniture That's Right for You
If you're one of the millions of Americans who work at home full time or part-time, you're fully aware of the need for a comfortable, productive workspace. And in this regard, great office furniture is key. But which desk, credenza, file cabinet, bookcase, chairs and other pieces of office furniture are right for you?
Here's where you have to make a big decision. You can choose furniture from big box stores and franchise office furniture stores. Usually, these items of furniture are great-looking – with their polished surfaces, fancy hardware and faux leather. But take a closer look. Or ask a sales associate. And you'll discover that most pieces are built with particle board — often with a veneer — and other bargain substitutes.
Amish Solid Hardwood Furniture for Sturdiness and Durability
Your other alternative is to choose superior-quality, solid hardwood furniture from Brandenberry Amish Furniture. Skilled Amish cabinetmakers custom-build each item of furniture. Also, the Amish men use quality regional hardwoods, such as oak, maple, cherry, and hickory. What's more, the Amish craftsmen incorporate tried-and-proven woodworking skills handed down from their ancestors. Plus, dovetail drawer joints enhance strength and durability. As a result, the pieces you buy should, with proper care, last for generations to come.
Brandenberry Furniture for Comfort and Convenience
The Amish builders made sure to include a gamut of comfort and convenience features into each piece of office furniture. For example, drawers open full extension. So you'll enjoy easy access to every square inch of space. Forget having to fight to retrieve a file or pencil from the very back of a drawer! Also, the builders include hookups for power and the internet. Plus, you'll find lights or optional LED touch lights in credenzas. You can also choose executive chairs with padded leather and full ergonomic features.
Solid Hardwood Furniture: Perfect for Working From Home
You can browse the full Office Furniture collection at Brandenberry's website. Or, check out Brandenberry furniture in person by visiting their 'brick and mortar' store in Shipshewana, Indiana.