Archive
Jul03
Comments Off on Custom Creations: The Clover Hutch
Brandenberry Custom Furnishings
Amish Clover Hutch
For the past 3 years here at Brandenberry Amish Furniture, we've increased our selection of custom furnishings from a few select pieces to a wide variety of furniture. Our customers as well as our craftsmen design these custom creations. Therefore coming with a clear idea of what piece they wanted, but weren't able to find anywhere else. We gladly work hand-in-hand to design and create a totally original piece to meet the customer's needs.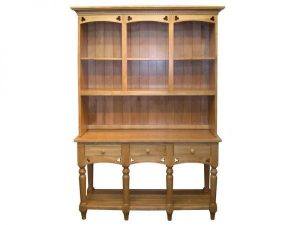 The Amish Clover Hutch, pictured here, is named for its small "clover" cut-outs. As a result, they add a charming style to this beautiful hutch. Featuring turned legs, planked bottom shelves and back, three full-extension dovetailed drawers, adjustable shelves with plate grooves and Brown Maple construction with a rich stain, the Clover Hutch brings to life an original design for all furniture-lovers to enjoy.
Jul17
Comments Off on Rustic Reflections: The Carolina Hutch
The Carolina Hutch
Our craftsmen at Brandenberry have a breadth of furniture knowledge. It not only encompasses modern furniture styles but delves deep into traditional styles. As a result, the Carolina Hutch possesses a truly rustic style. This hutch shows our dedication to using high-quality woods and traditional woodworking methods.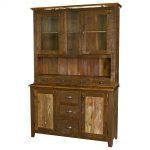 The Carolina Hutch is a treasure for furniture-lovers. It's crafted from Rough Cut Eastern White Pine and boasts a rough-cut rustic style. Above all this hutch features plenty of dynamic storage space with full-extension drawers.
You can explore Brandenberry's collection of hutches online at Brandenberry Amish Furniture. If you're visiting Shipshewana, stop in at our 'brick and mortar' store. As a result, you can talk to their expert customer service staff and view our handcrafted furniture for your self.