It's no coincidence that so many law offices choose barrister bookcases. Their large book compartments, sturdy shelves plus their retractable glass doors are ideal for storing large lawbooks and journals. These same features make them perfect for other applications as well. Barrister Bookcase: More Uses Than the Law Allows makes the relevant arguments, using barrister bookcases from Brandenberry Amish Furniture as evidence.
Ideal for Law Office or Home Use
Amish cabinetmakers in the Midwest painstakingly handcraft each barrister bookcase from Brandenberry so they're incredibly sturdy and durable. This means you can count on the strong solid wood shelves to bear the weight of heavy lawbooks. Also, the roller glides make the doors slide smoothly into the cabinet so access to books is a breeze. Optional decorative leaded glass inlays inside each door enhance the old-world look. Other options include clear glass and many leaded glass patterns. These features and options make the Brandenberry barrister bookcases a great addition to a law office or a lawyer's home office.
Barrister Bookcase: More Uses Than the Law Allows
The very characteristics that make barrister bookcases unique also make them ideal candidates for use in unconventional ways in other places in the home:
Novel curio cabinet. Many home and apartment owners choose a barrister bookcase for storing and displaying curio objects like precious books, vintage cameras, table clocks and kaleidoscopes. Keeping these precious behind the retractable doors reinforces their special status in the home.
Chic dining room hutch. Homeowners living in or wanting to create an unconventional house or apartment have been known to choose a barrister bookcase as a kitchen or dining room hutch. Why? The glass front protects dishes, makes them easy to find and showcases them nicely. Also, the retractable door makes it easy to load and remove dishes. What's more, the barrister bookcase is smaller than a traditional hutch so it fits better in confined spaces.
Attractive bedroom storage. Short of adequate bedroom storage but big on imaginative solutions? This is the motivation for adventuresome furniture lovers who use a barrister bookcase to store shoes or clothing in their bedroom. Ensconced behind the glass, everything stays visible and protected from dust. Also, access couldn't be easier.
Lawbooks traditionally have first dibs on barrister bookcases. But who can fault creative homeowners who have found other creative uses for this bookcase with sturdy shelves and easy-to retract glass doors? What applications can you think of in your home?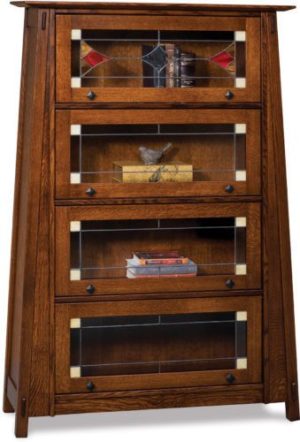 Visit Online or in Person
To view bookcases from Brandenberry, visit Brandenberry Furniture's website or stop in at the Brandenberry Amish Furniture store in Shipshewana, Indiana.