What is Shaker Style Wooden Furniture?
Shaker Style Wooden Furniture is dated back to the time of the American Revolutionary War. The Shakers, a sect of the Quakers, came to America from England, escaping religious turmoil. The early Shakers crafted for their religious gatherings. As a result their made their Shaker furniture with a simple design.
Above all, Shaker craftsmen built furniture that reflected their devotion to simplicity, practicality and integrity. As well as their strong work ethic. Amish artisans today keep alive the dedication to quality construction that the original Shaker craftsmen embraced. Most noteworthy, Shaker style furniture has remained virtually unchanged since the 19th century.
Archive for the Shaker Style Wooden Furniture Category
Apr26
Comments Off on A Beautiful Dining Accessory: Shaker Hill Wine Buffet
Specialty Home Furnishings
The Amish Shaker Hill Wine Buffet
Wine racks are a specialty home furnishing that beautifully blends practical function with a sense of style. Wine storage is as important as wine display. The Amish Shaker Hill Wine Buffet, pictured below, is expertly-crafted with this in mind.
Featuring classic Shaker accents like flared feet, a gently arched base, and wood knob hardware, as well as unique design features like inset hardware, the Shaker Hill Wine Buffet boasts a beauty that is at once traditional, modern and timeless.
In addition to a beautiful design, this wine buffet boasts dynamic storage space. Including a stemware rack holder in the top section and a sturdy wine rack. As an alternative design, the stemware rack can be moved inside a door with a pull-out drawer, pictured below.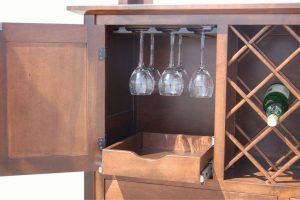 Come check out more of our wine buffets at Brandenberry Amish Furniture and view our wide variety of Amish-crafted furnishings!