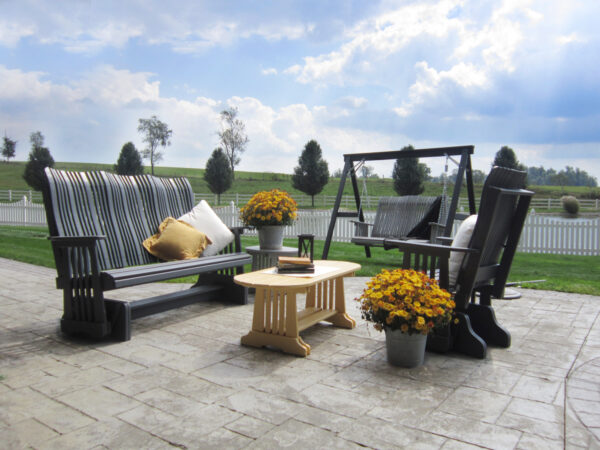 Highback Patio Set

Product number: H2006Y-BBS-30326

This Highback Patio Set includes a large glider, grandpa swing and A-frame, single glider with ottoman, coffee table and end table. There truly is room for everyone with this set. If you like rocking and gliding motions then this is the set for you. Just imagine sitting in the highback seats without your back aching from the lack of support. Undoubtedly, the memories you will make with your family and friends on this outdoor highback set are sure to last a lifetime.
Highback Patio Set Ordering Information
Call, e-mail or visit us at Brandenberry Furniture in Shipshewana, Indiana. We are here to help you customize this set and answer any questions you may have. We look forward to assisting you.
Features
Solid Cypress Construction
*A-Frame is Treated Pine
Heavy Duty Adjustable Swing Chain
Stainable or Paintable
Great Lumbar Support
Curved for Comfort
Measurements
Highback Swing: 29 D x 56 or 68 W x 33 H
2' Highback Glider: 29 D x 29 W x 44 H
Gliding Ottoman: 18 D x 18 W x 15 H (not shown)
5' Highback Glider: 29 D x 68 W x 44 H
Coffee Table: 20 D x 48 W x 17 H
End Table: 17 D x 23 W x 17 H
A-Frame: 53 D x 83 W x 73 H