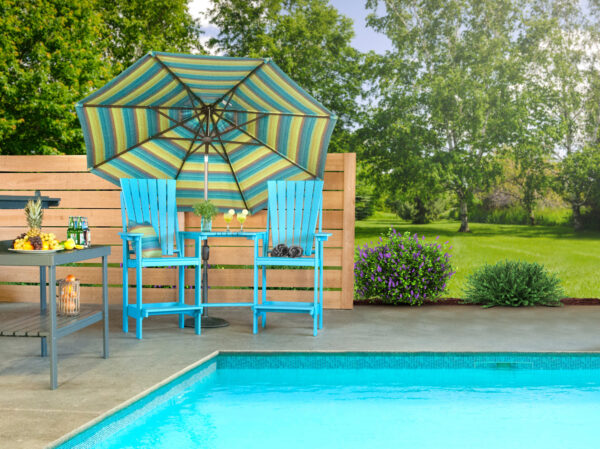 Poolside Patio Set

Product number: H2006Y-BBS-30327

The Poolside Patio Set is the one every pool side or lake dock needs. It provides comfortable seating, a built in table as well as the set up for an umbrella to keep you safe from the sun's harmful rays. There is no better way to enjoy a snack and drinks while you carefully watch your family and friends swimming.
Poolside Patio Set Ordering Information
First, choose your favorite color for the furniture, add an umbrella to the order and give us a call. Additionally, you can contact us via e-mail, visit or live chat, too.
Features
Solid Cypress Construction
Great for Outdoor Parties
Collar Tilt Umbrella
Tete-a-tete Between Bar Chairs
Garden Table Doubles as Entertaining Space
Stainable or Paintable
Several Fabric Options
Measurements
Euro Bar Chair: 31 D x 32 W x 56 H
Tete-a-tete: 20 D x 23 W
Garden Table: 21 1/2 D x 43 1/2 W x 50 1/2 H
Signature Umbrella: 108 D x 108 W x 102 H
16 Inch Square Throw Pillows