Archive
Jan30
Comments Off on Buying Amish Bedroom Furniture
Buying new bedroom furniture can be a daunting experience. This is particularly true since there are so many types of bedroom furniture available. Also, numerous online and 'brick and mortar' stores sell bedroom furniture. But if you're interested in top-quality, solid hardwood furniture, your best source is custom Amish furniture. So here are some key questions you need to consider in Buying Amish Bedroom Furniture: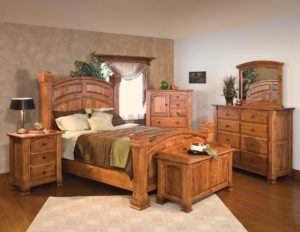 Space: How Big is Your Bedroom?
1. Have you measured the space in your room? Does it allow for just a bed and nightstand or an entire bedroom set?
2. Is one nightstand sufficient or will you need a nightstand on either side of your bed?
3. Does the bedroom come with storage, such as a walk-in closet?
There are several storage solutions for bedrooms with little or no walk-in closets, as you'll see below.
Furnishings: What Pieces Do You Want/Need?
Great. You're written down the dimensions of your bedroom. Now you need to consider what pieces you want.
4. Will a dressing table, mirror, and chair be required?
5. Do you need a chest or dresser with lots of storage space in the drawers, or does a chest with a standard height and depth suffice?
6. Does an armoire with a clothes hanger rod, shelves or an entertainment compartment fit your needs?
7. Do you need a blanket chest or cedar chest to store blankets, keepsakes and the like?
8. Will a full-size bed be large enough? Or do you prefer a queen or king-size bed?
Décor and Style: What Look Are You Going For?
9. Have you considered pieces like a lingerie chest, jewelry armoire, and cheval mirror? Since these occupy floor space, they need to be considered in how you design your floorplan.
10. Do you have a preference for furniture style (such as Mission, Shaker, Rustic or Modern)? This is important, since you may wish your bedroom furniture to complement furniture elsewhere in your home.
11. Do you have a wood preference and/or preference for furniture color? The most popular wood species are maple, oak, cherry, and hickory. Your choice of stain/varnish affects the look of the wood. Or you may wish to have your furniture painted, such as an off-white shade. This totally obscures the actual color of the wood.
Budget: How Much are You Prepared to Spend?
12. What is your budget? Of course, your budget will determine what type, and how many furniture pieces you will buy.
Buying Amish Bedroom Furniture
How you answer the questions above will have a major impact on the bedroom set that you ultimately pick for your home. Consider answering these questions as well as other issues that are specific to your situation before you go furniture shopping. Also, gain additional insights by visiting furniture websites and furniture stores after you have answered these questions about your bedroom. Then, review your answers accordingly. Finally, make the BIG DECISION about which furnishings are right for your bedroom.
To explore your choices in Amish bedroom furniture, visit Brandenberry Amish Furniture online. Or visit their 'brick and mortar' store in picturesque Shipshewana, Indiana.