Archive
Dec27
Comments Off on All in the Scroll: The Sleigh Style
If you're like most furniture shoppers, you like choosing a style that elicits positive vibes about another place, time or experience. That's we go for styles like Shaker, Mission, and Victorian. Yet, here's one popular style that's often overlooked. And it's All in the Scroll: The Sleigh Style.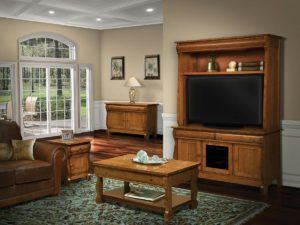 The Sleigh Style is named for its semblance to traditional snow sleighs. This explains its rounded top, graceful lines, scrolled feet and bold, assertive look. In the world of Amish furniture, this style is gaining popularity like never before.
All in the Scroll: The Sleigh Style
A remarkable feature about the Sleigh Style is the way in which Amish designers intersperse the rounded theme with flat panels throughout the piece. For example, the 'scroll' takes the form of the crown molding at the top of pieces like the bookcase, wall unit, and entertainment center (see photo). Then, it reappears as the rounded front panel for the drawer in consoles, cabinets, dressers, and tables. Also, Amish cabinetmakers integrate the scroll into the feet of each piece.
Sleigh Style Bedroom: Like Sleeping on a Sleigh
Brandenberry Amish Furniture, Shipshewana, Indiana, offers Sleigh Style furniture for every room in your home. Their sleigh beds are the most common furnishing featuring the sleigh style. Who wouldn't want to fall asleep with pleasant thoughts of a sleigh ride? Other pieces in the Sleigh Style bedroom collection include chests, dressers, and nightstands. Plus armoires, wardrobes, chifferobes and floor mirrors.
Sleigh Style Entertainment: Reminiscent of Good Times
Perhaps no item of furniture showcases the unique features of Old Classic Sleigh furniture like its entertainment pieces. Take the five-piece wall unit. It's Amish builders integrate the sleigh-like curve into its majestic bridge, wide shelf above the TV, flanking cabinets and distinctive base. Also, other pieces of entertainment furniture bear the sophisticated sleigh look. Pieces like the two-piece LCD cabinet, the corner hutch, and TV consoles.
Sleigh Style Living Room: Timeless Beauty
Decking out your living room with Old Classic Sleigh occasional furniture is like surrounding yourself with timeless beauty and sophistication. Living room furniture includes coffee tables, end tables, and sofa tables. Bookcases by Old Classic Sleigh perfectly complement the occasional table pieces.
To see more sleigh style pieces, visit Brandenberry Amish Furniture.