Apr26
Comments Off on A Beautiful Dining Accessory: Shaker Hill Wine Buffet
Specialty Home Furnishings
The Amish Shaker Hill Wine Buffet
Wine racks are a specialty home furnishing that beautifully blends practical function with a sense of style. Wine storage is as important as wine display. The Amish Shaker Hill Wine Buffet, pictured below, is expertly-crafted with this in mind.
Featuring classic Shaker accents like flared feet, a gently arched base, and wood knob hardware, as well as unique design features like inset hardware, the Shaker Hill Wine Buffet boasts a beauty that is at once traditional, modern and timeless.
In addition to a beautiful design, this wine buffet boasts dynamic storage space. Including a stemware rack holder in the top section and a sturdy wine rack. As an alternative design, the stemware rack can be moved inside a door with a pull-out drawer, pictured below.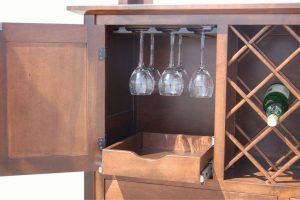 Come check out more of our wine buffets at Brandenberry Amish Furniture and view our wide variety of Amish-crafted furnishings!