Brandenberry Hickory Hilltop Nightstands
Continuing in our series of blogs on Hickory furniture, we turn our focus to the Brandenberry Hickory Hilltop Nightstands. A pair of nightstands that take natural beauty to a new level. Beautiful Hickory wood craftsmanship, including natural Hickory back accents, raw wood legs, raw wood spindles and even raw Hickory hardware.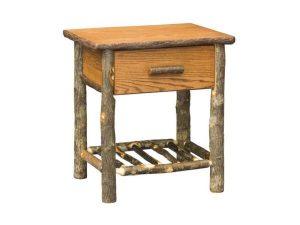 For lovers of custom, hardwood furniture, there is nothing better than bark accents and wood knots. Hence adding a distinguishing, rustic beauty. As a result these natural accents aren't flaws but beauty marks which furniture-enthusiasts can appreciate.
Most noteworthy Hickory has long been the strong, sturdy wood of choice for lovers of rustic beauty.
Above all check out our full selection of custom, hand-made, natural Hickory furniture at Brandenberry Amish Furniture. Discover why traditional wood furniture is one-of-a-kind.